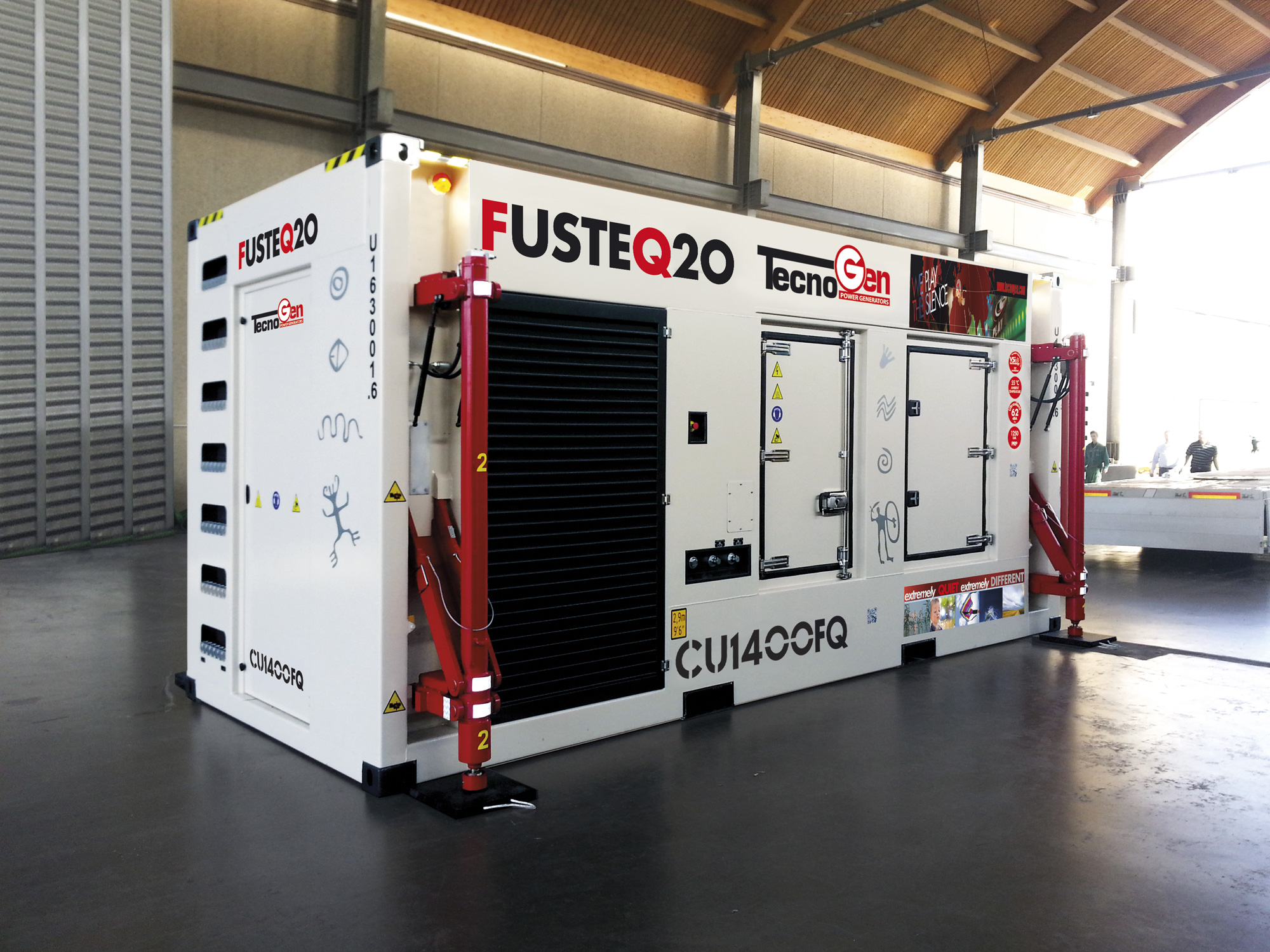 On the Bauma exhibition in April 2016 TECNOGEN presented an exceptional innovation, a CRANE-FREE FQ 20' CONTAINER. The new 1250 kVA PRP power generator, thanks to its hydraulic lifting system, allows lifting the 20' soundproofed container without the aid of a crane, with considerable saving of time and money.
The hydraulic outriggers are manually placed on the ground and can be extended via a radio remote control up to a the height that will allow to place the trailer underneath the container; the feet will then be lowered back and closed, the generator laying on the flatbed of the trailer.
FUSTEQ20 is a power generators line extremely different in design and performances.
Ideal for all Rental applications, Mining, Construction, Industry, Emergency Services and Civil Defence. FUSTEQ20 can also be used in highly urbanized areas with high human activity due to the very low noise level.
MAIN features
           Lower noise levels
           reduction in fuel consumption
           Lower emissions of exhaust gases to the benefit of the environment
           Adaptability to different climatic and environmental conditions
           Less frequent maintenance
           Longer life of the generator
           Limiting Ambient Temperature 55 °C at continuous rating
           Dual Frequency (50/60 Hz)
Our FUSTEQ2O's cooling system, thanks to its special multiple electric fans with VSi (Variable Speed inverter) technology manages the flow of cooling air in an innovative way.
The cooling system of the FUSTEQ2O series consists of electric radiators characterized by a large radiating mass and multiple VARIABLE SPEED fans with INVERTER technology.